Image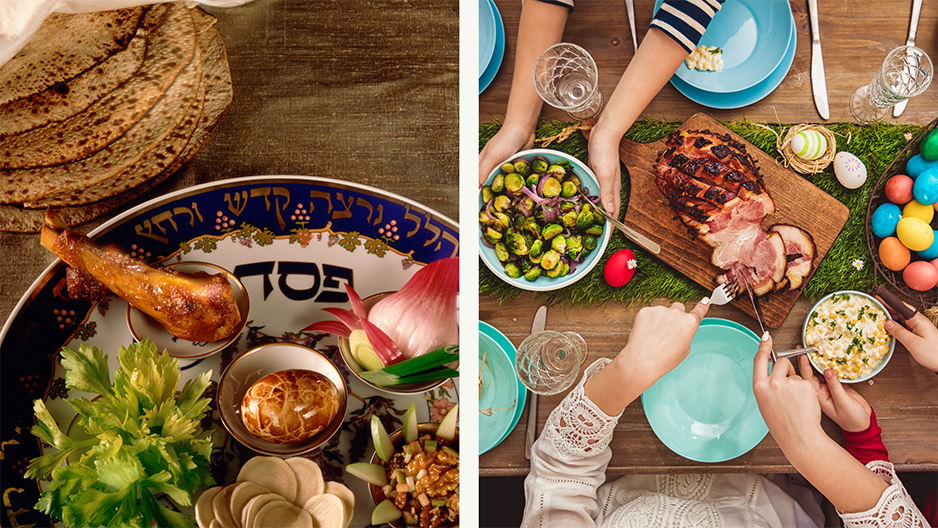 It's a special time of year as we welcome spring and celebrate several holidays. Whether you're celebrating your Seder meal with brisket or Easter dinner with ham or lamb, keep food safety in mind. Eggs also are popular for traditional Passover and Easter celebrations and require proper handling. Follow USDA's Food Safety Steps and remember these quick tips:
Eggs should not sit out at room temperature for more than two hours. Keep hard-cooked eggs in the refrigerator until ready to serve.
All cooked egg dishes should reach a safe minimum internal temperature of 160 F, as measured by a food thermometer.
If you plan to eat the Easter eggs you decorate, then be sure to use only food-grade dye. One suggestion is to make two sets of eggs, one for decorating and hiding that will not be consumed, and another set for eating. Consider using plastic eggs for your Easter egg hunt.
During Passover, various kosher meats are consumed. Kosher meat and poultry are produced under rabbinical supervision. Verify the safety of meats by looking for the USDA mark of inspection to ensure the product was produced in an establishment inspected by the USDA.
Be sure to allow plenty of time to thaw a frozen brisket. Thawing in the refrigerator can take about 24 hours for a trimmed, first-cut brisket. A whole brisket weighing about 10 pounds can take several days.
Bake the brisket, fat side up in a baking dish, in an oven set no lower than 325 F. The brisket is safe to eat when it reaches an internal temperature of 145 F and is allowed to rest at that temperature for three minutes. 
Ham is a popular meat for the Easter table. Did you know that there are several types of ham, and they require different preparation methods? Ham is either ready-to-eat or requires cooking before eating. Be sure to read the package instructions carefully.

Fresh, uncooked hams must be cooked to reach a safe minimum internal temperature of 160 F.
Ready-to-eat hams are cooked at the plant and can be safely eaten right out of the package and can be served cold or heated to serve warm.

Lamb is another popular dish. For food safety, the USDA recommends cooking a leg of lamb and other cuts to a safe minimum internal temperature of 145 F.
Learn more about the safe handling of beef, ham, lamb and egg products.
If you have questions about preparing meat, poultry or egg dishes, contact USDA's Meat and Poultry Hotline at 1-888-MPHotline (1-888-674-6854) to talk to a food safety expert or chat live at ask.usda.gov from 10 a.m. to 6 p.m. Eastern Time, Monday through Friday.